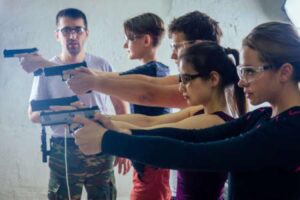 If you recently purchased your first firearm or if you're in the process of doing so, you may be wondering where exactly you're allowed to take the weapon. That will depend at least partially on what state you live in. Your state may require a permit and that permit may require you to take certain classes.
While being required to take a class may seem like a chore, you're likely to come out of the class glad you took it. Here are a few things you'll get out of a concealed carry class:
Skills and Knowledge
A firearm is a valuable tool when being handled by the right person. However, it's, at best, a liability in the wrong hands. That's why it's so important to learn how to properly use and care for your gun. Of course, you'll want to learn how to use it effectively. But you'll also need to know how to load and reload it, how to clean it, where to safely keep it, and more. Hundreds of Americans die accidental gun deaths each year, so learning gun safety is of paramount importance.
Confidence
Learning how to safely use a gun and everything that comes with it will give you a sense of confidence. Nothing will make you more comfortable and confident in your ability than practice, repetition, the wealth of knowledge you'll gain in you concealed class. And you want to be a confident and responsible gun owner, right?
Permits and More
Navigating the permit process can be difficult and confusing. As part of the course, the instructors will work with you to ensure that you have all the proper permits to carry in your state. They can even tell you exactly how to calmly deal with law enforcement if you're approached while carrying. In fact, if you haven't purchased a firearm yet, your instructor may be able to point you in the right direction as well.
If you're looking for a concealed carry class in the states of Illinois or Florida, Shootrite Training LLC can help you. You can learn under the guidance of a veteran with more than 40 years of experience working with firearms. Sign up for a class today!