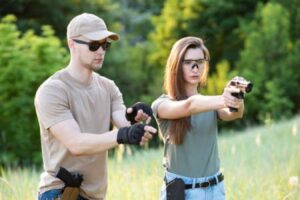 If you've recently purchased a firearm for the first time, or are looking into purchasing one, you may also be interested in a basic pistol safety class. Depending on what state you live in, you may even be legally required to take some sort of class.
But even if you aren't, it's a good idea to take a course regardless. The fee you pay will be worth it to make you a better and safer marksman and a more responsible gun owner. Here are some benefits to taking such a course:
Learning the Basics
If you're new to the world of firearms, one of the first things you should learn about is the firearm itself. Taking a basic safety class will help you understand how a gun works, the basics of ammo, and more. If you haven't decided on which one to purchase yet, learning about the differences between them help you decide which one's right for you.
Safety
When you purchase a firearm for the first time, you're likely aware of how important gun safety is. You know it's not something to be trifled with, but you may be unaware of the proper techniques to use to ensure that you're keeping yourself and others safe when handling the weapon. That includes where and how to store it in your home. Taking a safety class will teach you everything you need to know about the matter.
Skills
In addition to knowing how a gun works and how to use it safely, you're going to want to know how to use it effectively. Whether you made the purchase for hunting, home protection, or just a hobby, you want to be good at using your weapon. A basic pistol course will teach you the fundamentals of shooting, how to shoot in different positions, and how to avoid common errors.
If you're a new gun owners looking to learn more about how to safely use your weapon, Shootrite Training LLC. offers an NRA Basic Pistol Shooting Course. This class will give the attitude, knowledge and skills you need to operate a pistol safely. Call 847-302-1097 to sign up or learn more today!